Design Competition
Winning Dublin student creates new flossing device for teeth cleaning
Many congratulations to Christopher Kenny, a student from Technological University Dublin, who has won this year's Design Innovation in Plastics (DIP) competition with an ingenious bathroom item. We would also like to congratulate Innovates' winner Kyle Farquhar, a student from Edinburgh Napier University.
DIP, supported by The Worshipful Company of Horners, the Institute of Materials, Minerals and Mining (IOM3) and headline sponsored by Covestro, is the longest running plastics design competition of its kind for university undergraduates in the UK and Ireland.  This year's contestants were asked to design a product for the kitchen or bathroom, made primarily from plastics.
The full results are:
First place: Chris Kenny, TU Dublin, with his product 'Flossie', a dental hygiene device to help people with hand dexterity issues to floss their teeth more easily. It utilises flossing sticks and a specially designed gripping handle.  Chris used a combination of ABS (acrylonitrile butadiene styrene), polyurethane and polypropylene for the different components of his product
Second place to Kyle Farquhar, Edinburgh Napier University, with his product 'PlateMate', a flexible plastic mat or plate, made from polypropylene, which folds up to show children how to create a variety of Mexican and other international dishes, such as fajitas, in a more fun way.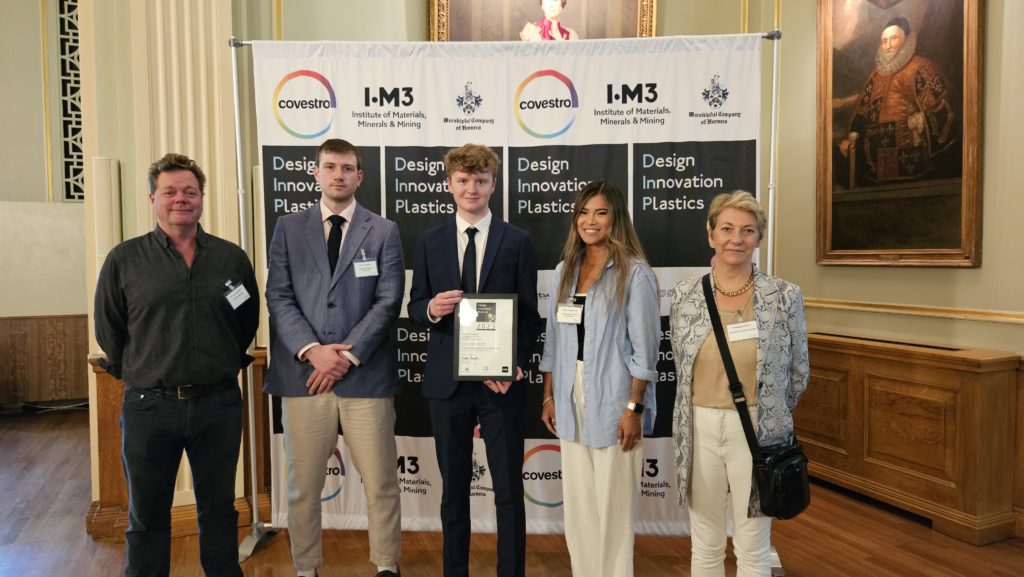 Third place:  Scott Rutherford, also from Edinburgh Napier, with his 'Rotary Bottle Opener', a device which converts pressure into turning force, helping people with hand weaknesses to open twist top bottles more easily. Designed to use polypropylene, around 65 per cent of it could be made from recycled bottle caps.
Highly commended:
Freddy Blake, Bournemouth University, with 'Bubble Buddy', a bathroom soap dispenser and hand wash device in one package, which makes hand washing more fun for children. Made largely from PET, and some silicone for the outer casing
Teresa Zheng, Loughborough University, with 'Sianel' a portable shelf which enables people to change their colostomy bags more easily. Teresa used polypropylene for the soft surface of the shelf, and polycarbonate for the main body part.
Robin Jones Award*
James Forrest-Smith, from Northumbria University, created 'STEPA' a fully adjustable stool with safety features, for children to use in the kitchen, encouraging them to get involved in kitchen activities and develop heathy eating habits.  He has used both HDPE and polypropylene to create his product, as they are durable and resistant to the kind of chemicals that might be found in kitchen cleaning products.
*Robin Jones Award. Robin was a key member of the DIP Committee who sadly died last year. A tutor at LSBU, he always passionately shared his presentation expertise with the finalists to help them showcase their products in the best possible way. This award, therefore recognises both the skill in achieving this as well as the quality of the design.
Aside from the winner's prize, the other award candidates also receive cash prizes along with placements or industrial courses and a year's membership of IOM3.
DIP is also supported by work placement sponsors, Brightworks, Innovate Product Design, PDD and Sumitomo Demag, along with media partners, British Plastics & Rubber, Mould Technology and Materials World.