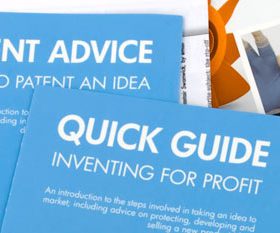 Innovate Product Design Ltd (INNOVATE) – Terms
Innovate Product Design Ltd (INNOVATE) – Terms & Conditions  and GDPR Compliance
1.1     TERMS OF SERVICE: Innovate provide commercially focussed and generalised information and opinion about successfully working within the existing legal framework of intellectual property, patents and patent law; which should in no way be viewed or construed as legal advice, or the only means of approaching similar issues.  Advisors at Innovate are not and will not be lawyers unless this is specifically stated, so we advise you to contact a specialised intellectual property lawyer if you feel you need specific legal information and tactical advice.  This is a legally binding contract and by commissioning you will be bound to pay all payments when the work is deemed complete by Innovate. 

1.2     CONSUMER PROTECTION NOT APPLICABLE: INNOVATE provide services for commercialising ideas therefore you are contracting with INNOVATE in a business to business capacity and this contract is not subject to consumer protection.  You are advised to take legal advice if you have concerns over any of its contents.

1.3     INNOVATE'S BUSINESS MODEL: INNOVATE help clients discover whether their concepts, ideas or inventions have value and could lead to commercial success.  INNOVATE provide a process for helping clients reduce the amounts at risk involved in idea commercialisation.  The process is broken down into independent stages which are adapted from industry-wide practices, including bespoke design-led first-filing patent services, enabling clients to seek third-party opinion before further progression.  Pre-design patent research is often advised as a very useful first stage to inform later stages, it is not therefore exhaustive or a final answer on patentability. 

1.4     OWNERSHIP: All good design work is a creative process and a matter of opinion.  As all work is owned and guided by you, subject to your approval, and dependent on your interpretation of all previous stages, INNOVATE cannot guarantee the future commercial or intellectual property success of your concept, idea or invention.

1.5     LIABILITY: INNOVATE's liability for each contractual stage of the design work is limited to the fees paid for that stage.  Each contractual stage is independent, and final approval of prior stages is confirmed by your undertaking the next stage. Neither party is bound to continue to the following stage.  Carefully check all aspects of the design and functionality during and after each stage, as by paying the final instalment for each stage you assume all responsibility for technical, design and commercial feasibility.  At the end of each stage you may discontinue INNOVATE services.  External work in the project (i.e. work not undertaken by Innovate) thereafter is your responsibility alone.

1.6     EXTENT OF INPUT AND ADVICE: You are employing and asking for INNOVATE's design opinion and expertise to develop your idea and this is included in our fee.  This will be based on professional opinion and personal experience and is liable to include approximation or estimation.  INNOVATE are in no way liable for aspects of technical or financial feasibility.  Third party help is advised in regards to legal, scientific or safety requirements. 

1.7     TIMING: INNOVATE fully intend to meet all deadlines offered at all stages however if significant changes are made to the scope or details of your project, delays may be unavoidable.  INNOVATE will endeavour to meet deadlines set but where delays are unavoidable no party can be held liable for third party losses.

1.8     INTELLECTUAL PROPERTY: (1) Any applicability of pre-existing intellectual property is your sole responsibility, and (2) Any pre-design research is subject to your interpretation and later design work cannot be viewed as INNOVATE's advice regarding: (a) the likelihood of obtaining intellectual property protection, or (b) any warranty of non-infringement of any third party protection by commercialization of your idea.

1.9     PROTOTYPES: Prototypes may be commissioned after any stage to demonstrate the Concept's development at that stage.  As bespoke goods a cancellation period does not apply.

1.10  CONDITION OF THE CONTRACT: The parties to this Contract agree that it is subject to the laws of England and Wales, and any civil Claim by either party shall be allocated to and heard by Salisbury County Court.
FURTHER TERMS PURSUANT TO The Consumer Contracts (Information, Cancellation and Additional Charges) Regulations 2013, SCHEDULE 2:
(p) the trader is under a legal duty to supply goods that are in conformity with the contract.
GENERAL DATA PROTECTION REGULATION (GDPR) STATEMENT
Information about Inventing – By requesting an InfoPack from Innovate Product Design Ltd you are asking for information about how to successfully commercialise ideas and inventions. This is a voluntary request for information and we will send you periodic updates.
We will continue to send you information on how to commercialise ideas for as long as you feel this information will help.

If you are happy to continue to receive this information, you don't need to do anything.
If you would like to stop receiving these emails, please let us know, as every newsletter email you will be sent (that is not related to a contract between you and us) already does and will continue to include an unsubscribe link.
None of this will affect receipt of contractual messages we send to those who have contracted with us.
We've also updated

our privacy policy with further information regarding our use of your data.
Privacy policy
Innovate Product Design Ltd (we/us/Innovate) takes client privacy extremely seriously and we are committed to protecting your data.  Please rest assured that any and all confidential information contained in any idea submission you make is instead subject to the strict terms of non-disclosure on the submission agreement itself.
This policy explains when and why we collect personal data about you, how this data is used, the conditions under which it may be disclosed to others and how it is kept secure.
This is our main privacy policy. We may provide additional, specific privacy information to you as you interact with us in different ways (e.g. that we will only use certain data for specific purposes). To the extent that any of that information differs from what we say below, those specific statements will apply in those circumstances.
This policy may change from time to time so please check this page occasionally to ensure that you're happy with any changes.
Innovate is the data controller in relation to the processing activities described below.  This means that we decide why and how your personal data is processed. Our registered address is The Old Dryer Hinton Business Park, Tarrant Hinton, Blandford Forum, Dorset, DT11 8JF and the company number is 06874129.
Our lawyer Tim Mount is the appointed Data Protection Officer and responsible for our data protection function.
We keep personal data for as long as necessary to ensure we can deliver services you consent to, for purposes related to legitimate interests outlined below, and where relevant in line with the confidentiality agreement between you and Innovate.
When you use our website, our products or services, interact with us online, or by phone, email or otherwise, the categories of data that we collect about you are as follows:
Personal data you give to us:
This is data about you that you give to us by entering data via:
our website
our social media accounts, e.g. via Facebook, LinkedIn or Twitter
corresponding with us by phone, email or otherwise,
and is provided entirely voluntarily.
This includes data provided at the time of requesting data about inventing, intellectual property and commercialising ideas ('inventor-interest'); contracting for services and engaging in correspondence with us by phone, email or otherwise. We may also ask you for data when you report a problem with our site. If you complete any surveys that we ask you to complete for research purposes, we will collect data in such circumstances as well.
The basic personal data we may ask for, or you may choose to give us, includes your name, your address, email address and phone number. We may retain details of any enquiry you make to us and records of any correspondence with us. We may also ask for, or you may choose to give us, other information for specific purposes, e.g. additional information to perform contracts and sensitive personal and information (now called 'special category data').  All such special category data will be covered by the terms of a confidentiality agreement.
We will seek to minimise the information we ask for to that which is needed to perform the relevant function or service at the time.
Please rest assured that any and all confidential information contained in any idea submission you make is subject to the strict terms of non-disclosure on the submission agreement itself.
Personal data we collect about you:
We automatically collect the following data when you interact with us: e.g. details of transactions you carry out through the site, and your visits to our site, including, but not limited to, traffic data, location data, weblogs and other communication data, and the resources you access.
We also automatically collect technical data, including anonymous data collected by the hosting server for statistical purposes, the Internet protocol (IP) address used to connect your computer or device to the Internet, browser type and version, time zone setting, browser plug-in types and versions, operating system and platform. Please see our cookie policy below for further data.
Personal data we may receive from other sources, for example your employer
At times we may receive data on individuals from other sources, e.g. from another authorised contact.
If you are submitting this data as such a representative or contact, you confirm that it is true and correct and that you will not provide us with any data which constitutes personal data unless you have ensured that you have obtained all necessary consents or other legal justification and/or provided any required notices to the data subject, or that you are otherwise permitted to provide such data to us, so that we can use it for the purposes and on the bases set out in this notice.
Use of data
The purposes for which we use your data and the legal basis under data protection laws on which we rely to do this are explained below.
Where there is a LEGITIMATE INTEREST
We may use and process your personal data where it is necessary for us to pursue our legitimate interests as a business, or those of a third party, for the following purposes:
Our commercial or inventor-interest functions
to inform of the work of Innovate and provide services to our contractual clients and inventor-interest newsletter recipients;
to ensure proper governance of Innovate, to validate and maintain our newsletter register;
to verify the accuracy of data that we hold about you;
to create a better understanding of inventor requirements so we can customise the services we provide;
to correspond or communicate with you as an inventor, to let you know about our clients and inventors' activities and to enhance and personalise your communications (including to send you newsletters or other support content based on interests you indicate to us, your stated inventing areas and/or location, and to improve the services we offer on our website);
to correspond or communicate with you about inventor-interest subjects if you are a member of the public;
to raise public awareness of products or services offered by us, our past-clients or colleagues or third parties and to make that data easily accessible for the public;
to conduct research and to compile management data;
for the management of queries, complaints, or claims;
To carry out marketing
for marketing and advertising activities (other than where we rely on your consent to contact you with information about our products and services or share your details with third parties to do the same, as explained below); and
for analysis to inform our marketing strategy, and to enhance and personalise your customer experience when you buy products and services from us (including to improve the recommendations we make to you on our website).
To fulfil online delivery and security
to ensure that our online content is presented in the most effective manner for you and your computer;
to allow you to participate in interactive features of our services, when you choose to do so;
for network and data security in order for us to take steps to protect your data against loss or damage, theft or unauthorised access; and
for prevention of fraud and other criminal activities;
Other
to assess and improve our service through recordings of any calls;
operating and managing contracts with our suppliers and service recipients; and
for the establishment and defence of our legal rights.
Where there is a LEGAL REQUIREMENT
We will use your personal data to comply with our legal obligations: (i) to assist any public authority or criminal investigation body as required; (ii) to identify you when you contact us; (iii) to verify the accuracy of data we hold about you; and/or (iv) to comply with a request from you in connection with the exercise of your rights.
Where it is required to complete or perform a CONTRACT with you
We may use and process your personal data where we have supplied you (or continue to supply you) with any products or services, where you (contracting as an individual) are supplying us with products and services; where we have arranged for the supply of another company's products or services to you; or where you are in discussions with us about any new product or service. We will use this data in connection with the contract for the supply of products or services when it is needed to carry out that contract with you or for you to enter into it.
Please see above on types of personal data we process about you above for details of the types of personal data we process for these purposes.
Where you have provided CONSENT
We may use and process your personal data where you have explicitly consented for us to do so for the following purposes:
to use your special category data for any purpose we state expressly, or
to provide inventor-interest newsletters or other communications,
for marketing activities, in order to contact you with marketing information about our products and services, including benefits provided by others (except where we may rely on Legitimate Interests as described above); or to share your details with recommended third party partners for them to do the same. Please see the Marketing section below in this policy.
You may withdraw your consent for us to use your data in any of these ways at any time.
Your data may be converted into statistical or aggregated data in such a way as to ensure that you are not identified or identifiable from it. Aggregated data cannot be linked back to you as a natural person. We may use this data for analytical and research purposes.
Our suppliers and service providers
We may disclose your data to our third party service providers, agents, subcontractors and other organisations for the purposes of providing services to us or directly to you on our behalf.  Where such parties receive special category data there will be a confidentiality agreement with analogous terms to that in place between you and Innovate, or the third parties are subject to professional obligations of secrecy, such as lawyers or patent agents.
Such third parties may also include cloud service providers; hosting, email and content providers; marketing agencies and administrative services providers; assessors for our accreditations; payment processing companies (who will process your debit/credit card securely if you purchase goods or services from us) and research companies (who may contact you to gather data relating to your experience of us and our products and services or on topical, policy and strategic issues facing inventors).
When we use third party service providers, we only disclose to them any personal data that is necessary for them to provide their service and we have a contract in place that requires them to keep your data secure and not to use it other than in accordance with our specific instructions.
Third parties who provide products and services to you
We work closely with various third parties to bring you a range of products and services that are complementary to those that we provide. In particular, we may offer products and services offered by others in addition to our own products and services.
When you enquire about or purchase one or more of these products or services through us, we may pass your contact details to the relevant third party, who will use your details to provide you with information and carry out their obligations arising from any contracts you have entered into with them.
These third party providers may share your data with us, which we will use in accordance with this policy. In some cases, they will be acting as a controller of your data and therefore we advise you to read their privacy policy.
If you sign up to attend one of our events, we may share your name and employer or organisation such as with fellow attendees and sponsors of that event for their data only, but will not share your contact details for marketing purposes without your consent.
Other third parties
We may share personal data with third parties in order to facilitate appointments which rely on our accreditations, e.g. we may share your contact details with third parties for marketing purposes but only if you have given consent for this; and we may share your details with third parties if this is necessary to fulfil a contract with you.
Other transfers or uses of personal data
We may transfer your personal data to a third party if we're under a duty to disclose or share it in order to comply with any legal obligation, to detect or report a crime, to enforce or apply the terms of our contracts or our legal rights or to protect the rights, property or safety of our visitors and customers. We will always take steps with the aim of ensuring that your privacy rights continue to be protected or act in line with the confidentiality agreement between you and Innovate where relevant.
On occasion, the data you provide to us may be transferred to countries outside the European Economic Area (EEA). By way of example, this may happen where any of our servers or those of our third party service providers are from time to time located in a country outside of the EEA. These countries may not have similar data protection laws to the UK. Where possible, we will seek to work with service providers whose servers are located within the EEA.  If we transfer your data outside of the EEA in this way, we will take steps to ensure that appropriate security measures are taken with the aim of ensuring that your privacy rights continue to be protected as outlined in this policy.
Unfortunately, the transmission of data via the internet is not completely secure. Although we will do our best to protect your personal data, we cannot guarantee the security of your data transmitted to our website and any transmission is at your own risk. Once we have received your personal data, we put in place reasonable and appropriate controls to ensure that it remains secure against accidental or unlawful destruction, loss, alteration, or unauthorised access.
Our website may contain links to other websites run by other organisations. This policy does not apply to those other websites so we encourage you to read their privacy statements. We cannot be responsible for the privacy policies and practices of other websites even if you access them using links that we provide. In addition, if you linked to our website from a third party website, we cannot be responsible for the privacy policies and practices of the owners and operators of that third party website and recommend that you check the policy of that third party website.
Like many other websites, our website uses cookies (including Google Analytics cookies) to obtain an overall view of visitor habits and visitor volumes to our website. 'Cookies' are small pieces of data sent to your computer or device and stored on its hard drive to allow our websites to recognise you when you visit.  It is possible to switch off cookies by setting your browser preferences. For more information on how we use cookies and how to switch them off on your device, please visit our Cookie policy.
We may review this policy from time to time and any changes will be notified to you by posting an updated version on our website. We recommend you regularly check for changes and review this policy whenever you visit our website. If you do not agree with any aspect of the updated policy you must immediately notify us and cease using our services.
Your rights
You have a number of rights in relation to your personal data under data protection law. In relation to certain rights, we may ask you for information to confirm your identity and, where applicable, to help us to search for your personal data.
Except in rare cases where additional time may be required, we will respond to you within one month from either (i) the date that we have confirmed your identity, or (ii) where we do not need to do this because we already have this information, from the date we received your request.
Your personal data
Under data protection laws you have a legal right to ask to see a copy of the personal data that we hold about you under a 'subject access request'.
If you would like to make a subject access request, please let us know.  You may also need to provide one form of identification and proof of your address, for example, staff pass, driving licence, utility bill, and if appropriate, any particulars about the source or location of the data you are requesting.
Further information about subject access requests can be found on the Information Commissioner's website https://ico.org.uk
We may not provide you with a copy of your personal data if this concerns other individuals or if we have another lawful reason to withhold that data.
The accuracy of your data is important to us and we are working on ways to make it easier for you to review and correct the data that we hold about you.
In the meantime, if you change your name or address/email address, or you discover that any of the other data we hold is inaccurate or out of date, please let us know by contacting us.
Withdrawing your consent
Where we rely on your consent as the legal basis for processing your personal data, you may withdraw your consent at any time by contacting us using our standard details.
If you would like to withdraw your consent or object to receiving any inventor-interest emails to which you previously opted-in, you can do so using the unsubscribe tool in that communication (if it is an email), or by writing to us or calling us using our standard contact details. If you withdraw your consent, our use of your personal data before you withdraw is still lawful.
If you have provided consent for your details to be shared with a third party, and wish to withdraw this consent, please also contact the relevant third party in order to amend your preferences.
Objecting to our use of your personal data and automated decisions made about you
Where we rely on our legitimate business interests as the legal basis for processing your personal data for any purpose(s), as outlined above, you may object to us using your personal data for these purposes by emailing or writing to us using our standard contact details. Except for the purposes for which we are sure we can continue to process your personal data, we will temporarily stop processing your personal data in line with your objection until we have investigated the matter. If we agree that your objection is justified in accordance with your rights under data protection laws, we will permanently stop using your data for those purposes. Otherwise we will provide you with our justification as to why we need to continue using your data.
You may object to us using your personal data for inventor-interest purposes and we will automatically comply with your request. If you would like to do so, please email or write to us or click the unsubscribe link.
Erasing your personal data or restricting its processing
In certain circumstances, you may ask for your personal data to be removed from our systems by emailing or writing to us. Unless there is a reason that the law allows us to use your personal data for longer, we will make reasonable efforts to comply with your request.
You may also ask us to restrict processing your personal data where you believe it is unlawful for us to do so, you have objected to its use and our investigation is pending or you require us to keep it in connection with legal proceedings. In these situations we may only process your personal data whilst its processing is restricted if we have your consent or are legally permitted to do so, for example for storage purposes, to protect the rights of another individual or company or in connection with legal proceedings.
Transferring your personal data in a structured data file ('data portability')
Where we rely on your consent as the legal basis for processing your personal data or need to process it in connection with a contract we've entered into with you, as set out above, you may ask us to provide you with a copy of that data in a structured data file. We will provide this to you electronically in a structured, commonly used and machine-readable form.
You can ask us to send your personal data directly to another service provider, and we will do so if this is technically possible. We may not provide you with a copy of your personal data if this concerns other individuals or we have another lawful reason to withhold that data.
Complaining to the UK data protection regulator
We'd like to be able to resolve all your concerns, and we hope that we can do so. Where we haven't been able to do this, you have the right to complain to the Information Commissioner's Office (ICO) if you are concerned about the way we have processed your personal information. Please visit the ICO's website for further details: https://ico.org.uk.
 Cookie policy
Cookies are small text files stored on your computer while you are visiting a website.  Cookies help make websites work.  They also provide us with aggregated data about how users interact with our site.  We use a third-party service—Google Analytics—to collect aggregate data about usage of our website.  We use this data to try to improve your experience on our website.
The law about cookies changed in May 2011.  Websites must get your agreement before they set certain types of cookie on your computer or handheld device.  However our website does not use any cookies of the type that require your consent to us.
We do not currently use cookies to remember personal settings you have chosen at our website.  We do not currently use cookies to collect data that identifies you personally.
Session cookies are placed by your computer to improve your experience and are automatically deleted when you leave our website or shortly afterwards.
Google Analytics sets several cookies on your browser.  We do not control the use of the these third-party cookies, and you should check Google's privacy policy if you have concerns.
| | | |
| --- | --- | --- |
| Service | Cookie name | Duration |
| Google Analytics | _utma | 2 years |
| Google Analytics | _utmb | After 30 minutes of inactivity |
| Google Analytics | _utmc | When you close your browser |
| Google Analytics | _utmz | 6 months |
| Google Analytics | _utmv | 2 years |
V2.5