For budding entrepreneurs and enthusiasts alike, there is nothing quite like a trade show.
One of the largest shows of its kind, Glee attracts thousands of visitors each year, and is renowned for being influential in the world of gardens and outdoor living. For over a decade, Glee has been the pedestal upon which those in the industry have chosen to showcase the fruits of their labours: products new and old, with start-ups sharing the limelight with seasoned and established professionals. With over five hundred exhibitors every year, it is the perfect platform to display new inventions and share ideas.
Alex Bell, Senior Client Manager at Innovate, travelled to the Birmingham event to see one of our clients: Callum Hilder, Managing Director of Elementree Group Ltd. Callum was demonstrating the Elementree Splitter and the Elementree Kindler: inventions of his designed to split logs and kindling for firewood.- www.elementree-splitter.co.uk.

Callum and Elementree Group Ltd have been working with Innovate from Day One. Through the initial process of background research and protection, we have supported him, as well as working closely together through the entire design development stage. Having taken each step with Callum, it was so rewarding to see him hit the ground running.
"A great success," Callum described the show as. He agreed that Glee offers a "unique opportunity to connect with interested parties" and to spread his cause among the largest of audiences.
Callum found the experience overwhelming in that the response they had was so positive. "We expected interest from some parties, however we spoke to a wide range of buyers, company owners, independent retailers, public and more that loved the products and expressed a wish to stock or purchase." said Callum.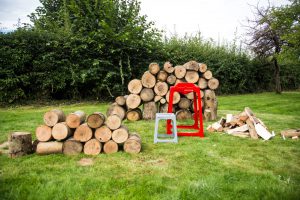 The event as a whole had about it an electric air, oozing a "hustle and bustle" vibe that was as enticing as it was engrossing. At every stand, deals were being struck; it was fascinating to hear. It was the place to be to source new products for the coming months, and to get a preview of the way the industry is moving.
The Innovator's Zone was many visitors' favourite part of the show. Here, those individuals who were taking their first business steps had the chance to share their inventions, many of which nobody ever realised they needed until they saw them – that is the sign of a truly innovative creation. The feedback of the Innovator's Zone has been overwhelmingly positive, and we look forward to seeing where the exhibitors who were there will find themselves in the years to come.
"We have taken away a lot of experience and useful information that we are now able to build upon and grow the company further" advised Callum.
Glee will return in 2018, inevitably larger than ever before in this ever-expanding industry. We hope to see Elementree there again, as well as many of you.
If you have an idea you'd like to bring to life, request an Info Pack from us today. Let's get the ball rolling.