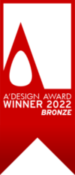 Beautifect wins Bronze at A' Design Awards
Congratulations to our client, Beautifect, for winning Bronze at the A' Design Awards 2022. The judges awarded a score of 7.5 for the design which was enough to clinch the Bronze. Well done to Tara and the whole team for achieving such a great result.
Product name: Beautifect box
Product website: beautifect.com
The Beautifect box is a unique, compact and portable make-up space. With patent-pending lighting technology, a smart storage system and a distortion-free glass mirror.
The beginning of Beautifect
Within 1 week of launching it was described as 'The Best make-up bag for fool proof application' by Stylist magazine, and was featured in Glamour as one of the 'biggest beauty launches'. We couldn't have imagined a better start for our client. Beautifect was invented by Dr Tara Lalvani and engineered by Innovate. Tara, a Dental Surgeon and beauty enthusiast saw the inconveniences of applying make-up, from the messy make-up bags to the poor lighting and also taking up more time in the day than she would like, can you relate? She also saw a resolution, and her mission was to make women's lives easier. Tara put her mind to the design she was looking for, she wanted a beautiful space where make-up could live, be applied in and also be portable for endless travel possibilities. "I was thinking about how to make a prototype, and I saw Innovate in a magazine." Perfect timing. Tara is the wife of BBC's Dragon Tej Lalvani, but this venture was all hers. Dedicated to funding this herself and wanting full control of the process, she approached Innovate.
Working with Innovate
Tara worked very closely with our designers for the whole development process. "I felt like we were on the same team." Tara expressed. We created and tested many versions and prototypes to ensure not just the best design for practicality and enjoyment for the modern woman, but perfectly engineering the functionality and lighting for a one of a kind, innovative product experience. The complex design boasts many unique features including a specially engineered hinge for make up application from any angle, a smart storage system for optimal make-up space (researched, tried and tested) and a true definition mirror. We believe that the Beautifect box is set to be one of the most sought after make-up products on the market, and soon to be a household name. Perhaps one the most key and defining features is the state-of-the-art lighting system, which took some time to refine. Beautifect features 5 lighting colour modes from candlelight to bright sun, with different strengths of each. Tara was passionate about this feature from the beginning and is a huge selling point. "For the first time you can do your make-up in the right light." After providing Tara with the final files, she approached a UK firm to manufacture the cases ready for the world to see. Tara does all of her own impressive PR and media, "Who knows this project better than me? I don't need a PR or Media team, the product speaks for itself."
Looking back
When asked about a highlight in the process, Tara described seeing her first prototype finished to be a 'Wow' moment, finally seeing her vision come to life in front of her. The challenge that Tara faced in the process is a really relatable for most new inventors. From a dental background, she has a scientific state of mind and is used to studying hard to get where she is. To initially not have an understanding of design engineering, and letting others take the reins in terms of development was strange. Tara admitted that "Not being the expert was difficult." It can be challenging to be told that your early designs may not be feasible, but as many inventors find, it's all part of the process. "But despite that, it's amazing.. You have to be ready to pivot, or you'll never move forward."
Pearls of wisdom
Tara's advice? "Go for it." Tara used to shy away from things she wasn't an expert in, but she explains that she got over being shy. "You have to overcome the doubts.. If you thought of something that you need, and would benefit others, go for it and see it through."   If, like Tara, you have an idea and are raring to go, send your idea in today for a free review.