Starting out
Barry wanted to create a power bank that would stand out from the crowd. With an alternative design, he wanted to fill a gap in the market by moving away from "boring plastic bricks".
"The inspiration came to me in 2018 when I was served a cocktail, part of which was in a mini aluminium jerrycan. Meanwhile my rather bland and unremarkable power bank lurked in my briefcase. I wanted to produce something that shared the same qualities namely; rugged, iconic and dependable. Mine was designed from the outset to look different and to be emblazoned with military cap badges and corporate logos."
Working with Innovate Design
Barry approached Innovate Design and met up with our design team with his original concept. We offered Barry our concept development service where we were able to explore different exploring the different ideas he had and then creating several prototypes of the power bank. From these, we were able to come up with a final design that was then ready for mass manufacture.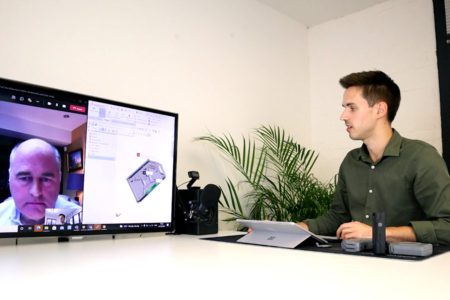 "It took 3 years from idea to my first sale but I had an engineering setback and Covid slowed everything to a stop so those challenges , coupled with my own capacity, meant it took this long. However, Innovate regulated my output, and both cajoled and supported me from the very beginning, making the complex simple. Encouragement through regular jargon free communication was essential – on both sides  – and that made it not just professional and exciting but also fun.
Achieving that critical design balance was key and Sulli and his team cracked it with consummate ease."
Next step…manufacture
Once the design was ready for mass manufacture, we set Barry up with some interested contacts in China and the UK. Along with the final design we made sure that the PCP design worked well when put together. This benefitted Barry in the next stage when there were no changes needed to be made to the injection moulding tool. Resulting in a quicker and cheaper route to mass manufacture and sales.
"The suggestions Innovate Design made replaced guesswork in such a complex and complicated phase of the project."
Sustainability was an important factor when deciding on which manufacture to go with so Fuel the Adventure was manufactured and assembled locally in Hampshire, UK.
Golden tips for new inventors
"If you have a unique selling proposition and you are confident that your product is unique and has appeal then go for it but do extensive market research, and get a good IP solicitor."
What's next?
Barry would like to see his product being widely used, selling his product on a greater range of online platforms.
"The design tweak along the way has made Fuel the Adventure not just unique in its design but unique in its ability to be both a superb corporate gift and a practical powerbank evoking memories for the enormous jerrycan user communities across the world."
You can buy a power bank on fueltheadventure.co.uk and Barry is now experimenting with some cutting-edge sustainable manufacturing techniques, more on this to follow soon!