Farewell, Artur Fischer
(1919-2016)
If you have ever tried to hang a picture on sheet rock or put a shelf up on a plaster wall, then the chances are that you are familiar with one of the products of Artur Fischer. And where the Fischer wall plug was by far his most notable invention, the late inventor has more than 1,100 patents to his name.  From toys to tool designs, Artur Fischer paved the way for other inventors to open up their minds to the creative process and find solutions to everyday problems.
Fischer started his career not as an inventor but as a locksmith. He was born a tailor's son on New Year's Eve, 1919. From a young age his interest were geared to engineering by his mother. Perhaps it was the understanding of the mechanics or the internal design components that got him to thinking about his first innovation. And while we may not understand his initial motivations for his creative process, we can understand that he was oriented to finding solutions from the start. Fischer stated that "At first you don't know what it is you want, just that you want something."  The first "something" which Fischer invented was a trigger based flash bulb so that he could take a picture of his daughter in adequate lighting. Though this is a common feature on today's cameras, when he thought of the idea in the early part of the 1900s it was not so.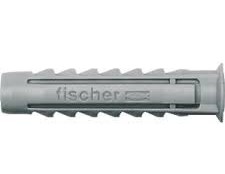 After the light came on, so to speak, Artur Fischer expounded upon his creative genius with the development of his own company, Fischerwerke. 10 years after the founding of the company, the nylon Fischer wall plug was invented. It was from this design that the inventor gained most of his notoriety, and such is understandable. Fischer dedicated a great deal of his creative time into the improvement and redesigning of the device.  As such, the wall plug has evolved from just a tool to put into sheetrock and plaster to being implemented into medical devices to hold bones together, as models for new engineers, and in physics lessons.
Later inventions of Artur Fischer include a number of toys, most notably is Fischertechnik, a construction toy company which rivals Lego. In addition to this company Artur Fischer also invented edible building blocks and kitchen ware/storage products including an egg carton that could be stretched to accommodate any standard sized egg.
Artur Fischer's company was handed over to his son Klaus in 1980 and continues on. Prior to his passing Fisher would often visit the office in Waldachtal. In 2014, after a lifetime of innovation, creativity, and practical problem solving the European Inventor Award for Lifetime Achievement was bestowed upon him. And while the inventor has passed, his influence on the creative world will remain.
Artur Fisher now joins his wife Rita. He is survived by a son and a daughter.
Artur Fischer, born December 31st ,1919, died January 27th, 2016